Welcome to our Student Laptop Program
Offering exclusive laptops for students.
In partnership with Cal Poly Pomona and Dell, the Bronco Bookstore is offering two complete Dell laptop packages with sales taxes, fees and extended warranties included (plus optional payment plans). We worked collectively with all the Campus departments to find the best machine for your needs. 
The partnership with Dell and the University allows us to offer payment options as well as an extended 4-year warranty and 4-year accidental warranty, making sure that you have a problem-free computer to use during your college tenure.
The Pro Package is catered toward students using the laptop mostly for typing reports, spreadsheets, internet research, email and e-book reading.


The Performance Package is catered towards those that require more performance to run programs such as Adobe Creative Cloud, CAD, EquatIO, R Studio, MatLab, SolidWorks and more.


The MacBook Pro is offered at low education pricing catered to those that prefer Apple® products.
These options are only recommendations but you optimally you will need to decide what best meets your needs. Please contact the Bookstore if you have any further questions or need assistance selecting the right laptop to meet your needs.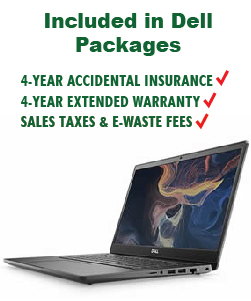 Pro Package
Dell Latitude 3320
Dell Latitude 3320 xCTO
11th Generation Intel Core i5-1145G7
16GB, 2x4GB, 4267MHz, LPDDR4x, Non-ECC Memory
Win 10 Pro 64 English, French, Spanish
Integrated Intel Iris Xe Graphics for i5-1145G7 Processor with 16GB Memory
M.2 256GB PCIe NVMe Class 35 Solid State Drive
13.3" FHD (1920x1080) Non-Touch, Anti-Glare, IPS
HD Camera, 250nits, WLAN
Intel Wi-Fi 6 AX201 2x2 .11ax 160MHz + Bluetooth 5.1
3 Cell 41 Whr ExpressCharge Capable Battery
Pro Package Pricing $1,170.99
2-year payment option: $321.81 per semester
(4 total payments)
4-year payment option: $160.90 per semester
(8 total payments)
INCLUDED IN PACKAGE
Sales Taxes: Included
E-Waste Fees: Included
4-year extended insurance: included
4-year accidental insurance: included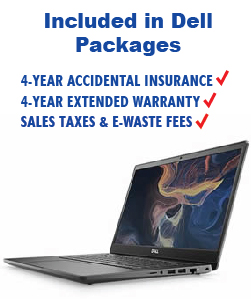 Performance Package
Dell Latitude 3420
Dell Latitude 3420 xCTO
11th Generation Intel Core i5-1145G7
16GB, 2x8GB, 4267MHz, LPDDR4x, Non-ECC Memory
Win 10 Pro 64 English, French, Spanish
Integrated Intel Iris Xe Graphics for i5-1145G7 Processor with 16GB Memory
M.2 256GB PCIe NVMe Class 35 Solid State Drive
13.3" FHD (1920x1080) Non-Touch, Anti-Glare, IPS
HD Camera, 250nits, WLAN
Intel Wi-Fi 6 AX201 2x2 .11ax 160MHz + Bluetooth 5.1
3 Cell 41 Whr ExpressCharge Capable Battery
Performance Package Pricing - $1,355.99
2-year payment option: $372.45 per semester
(4 total payments)
 4-year payment option: $186.23 per semester
(8 total payments)
INCLUDED IN PACKAGE
Sales Taxes: Included
E-Waste Fees: Included
4-year extended insurance: included
4-year accidental insurance: included